Hotel Summit Serbia is the leading annual event about hospitality sector in Serbia.
It gathers around 300 professionals from hospitality industry (hotels, tour operators, tourist agencies, food & beverage producers and distributors, equipment producers, institutions, consultants, etc) in Serbia and region and presents international speakers from all over the world. Second year in a row, organized by InHotel magazine, the conference will take place on March 21st in Hyatt Regency hotel in Belgrade.
More than 15 international speakers, from Great Britain, Lithuania, Germany, France, Hungary, Slovenia and Serbia will cover the following topics: trends in hospitality, latest research data, business innovation, destination management, hotel and revenue management and inspiration.
The number of international incoming trips is expected to continue stable growth of 5% annually during the next five years to exceed 1.5 trillion trips already in 2020. Apart from stable macroeconomic environment, the growth will be driven by changing consumer preferences and values. Which mega-trends will shift consumer behavior have impact on the industry? How creation of an infrastructure can support hotels that want to maintain their independence while leveraging the expertise and support services of a reputable international brand?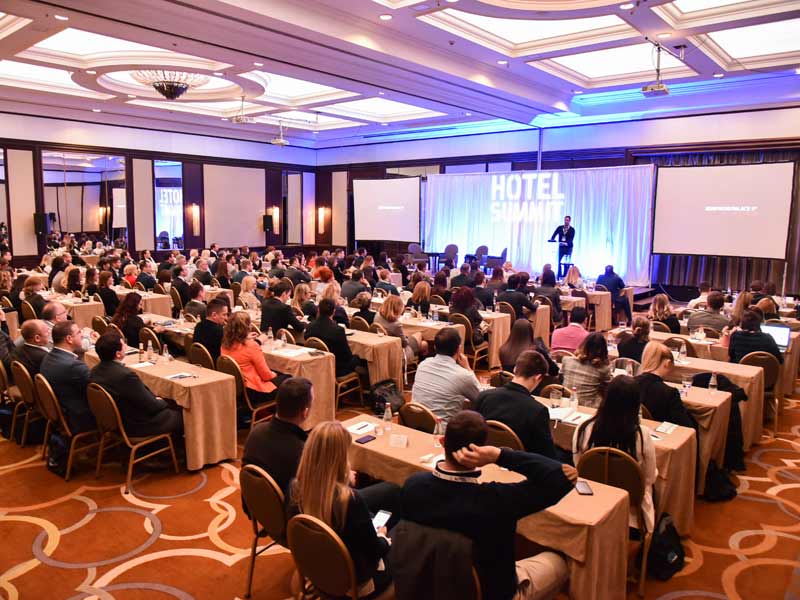 A fusion of glamour and camping – known as glamping – is a way to authentically experience the most awe-inspiring locales around the world and Slovenia is following the trend. On the other hand, Croatia was successful in privatization process of several rehabilitation and spa centers. What Serbia can learn from its neighbors?
Outspoken, adventurous, proud and audacious – how those who visit Serbia perceive us? Ipsos will present exclusive research for Hotel Summit 2019 – Visitor's perception of Serbia.
Destination management is the coordinated management of all elements that make up a destination, including the attractions, amenities, access, marketing and pricing. The impression is that much more could be done in Serbia. Do we have enough resources and efficient system?
Regardless of the type of hotel or the number of rooms that a given property has, an effective hotel revenue management strategy is necessary to success. With an effective revenue management strategy in place, a hotel operator is able to drive bookings during the slow season while capitalizing on high demand during the busy season.
London has 7.962 properties listed on Booking.com and 36.000 new hotel bedrooms since 2011. What marketing steps and skills are needed to stand out amid such competition? General manager of a boutique London hotel will show us that what it takes to be successful is – being different.
Early bird discount 50% by Feb 20th.  For complete information, please visit official web page www.hotel-summit.rs