For the third year, the editorial office of the magazine "Auto Bild", traditionally organized the award cer­emony for the most popular cars on the market of Serbia under the name "Zlatni auto" ("Golden Car"), last year under the general sponsorship of the company OMV.
The place of the event organization was the new, fully equipped event venue "Stadion Hall", which is located in the shopping center "Stadion" in Vozdovac.
After nearly whole five months since the start of the first round of voting, having included 44 models classified in eight categories, the winners in each of those were announced, while a model with the greatest number of votes among the prizewinning cars was recognized as a proud holder of the title of "Golden Car" for 2016.
It was received more than 22,000 votes of readers, who voted through the por­tal Blic and the magazine "Auto Bild". The votes counting resulted in the names of finalists, who entered the second round. The votes were collect­ed, and the finalists for 2016 were an­nounced. The car model Alfa Romeo Giulia was proclaimed a winner!
The whole event was, literally and figuratively, raised to a higher level, with one interesting detail – the win­ning car entered the "Stadion Hall" on a crane!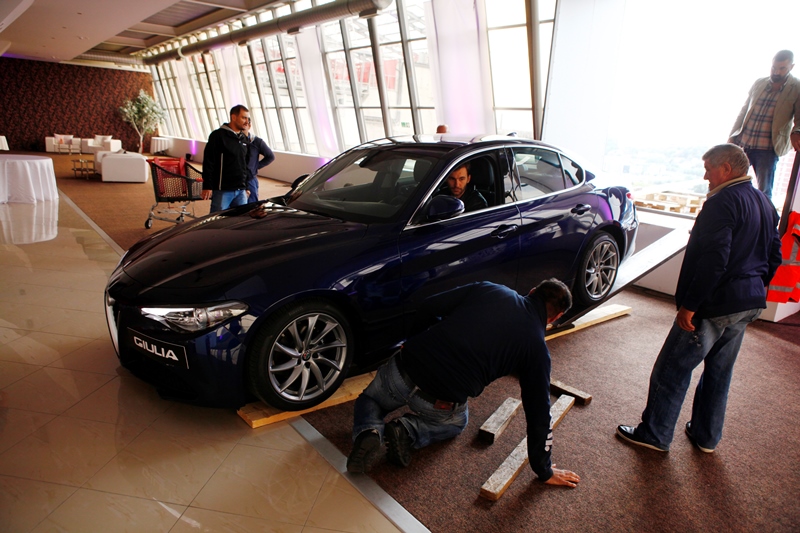 Given that the event venue, of the ca­pacity of 1,500 seats, was located on the top floor of TC Stadion, and that the guests were ensured a great view during the night, the first thought of the car driven into the hall was not promising.
However, it turned out that the work with the crane there was not a prob­lem, and thus the winning automobile was lifted with a large crane from the ground and transported into the hall.
The event, which was attended by a large number of guests from the Serbian car industry, business world, and the public life as well, received only praises for the realization of the entire event.
The editorial office of the magazine "Auto Bild" had prepared another unforgettable evening, during which the awards were granted for the most popular cars on the market of Serbia.
"Bearing in mind that the most important idea of this event could not have been carried out in any venue, we addressed the venue "Stadion Hall" and presented our idea. They immediately welcomed it.
An elegant and large enough venue that can accommodate up to 1,500 persons, great food, attentive and friendly staff, fulfilled all our expec­tations.
We shall make all the praises to the "Stadion Hall" for the professionalism and support we received in terms of organization of this event, which was not even close to be easily carried out".
Predrag Pejcic, Brand Manager of the magazine "Auto Bild"