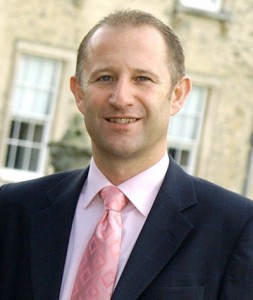 Graeme Barnett possesses over 14 years of experience in the global exhibitions industry working for Reed Exhibitions, the name behind the world's leading portfolio of trade and consumer events.
Having spent 5 years working on a number of key projects in the UK business (including acquisitions & venue development & planning) Graeme moved to Reed Travel Exhibitions in 2001 as Event Director on World Travel Market, responsible for the development and execution of the events strategy following its move to ExCeL in 2002.
In 2006, Graeme joined Reed Travel Exhibitions Meetings & Incentives portfolio to head the team responsible for the successful launch of GIBTM in Abu Dhabi (in 2007) together with the re-launch of CIBTM in Beijing in 2009. Through his work in the emerging Meetings destinations of The Middle East & China, Graeme has worked at senior commercial & Government levels to assist with the delivery of strategy & promotion of specialist Meetings & Incentive related projects.
Graeme has recently been promoted to Exhibition Director of EIBTM, and will be responsible for leading the events' future development and growth. Graeme also takes responsibility for the development of the global sales strategy for RTE's Meetings & Events portfolio.
1. You were the exhibition director of both CIBTM in Beijing and GIBTM in Abu Dhabi. What similarities and what differencies do you expect in managing these exhibitions comparing with EIBTM Exhibition in Barcelona?
The role of Exhibition Director is the same for any of our meetings portfolio of events. Ultimately, the role is leading a team of exhibition and meetings industry professionals, whose objective is to create and deliver an event, whether regionally or globally, that meets the needs of our customers and the industries they serve.
The core ingredients of our events are to provide quality business, networking, and learning opportunites, so our teams are very well versed in creating strategies that do just that, whether it be in China, Abu Dhabi or Europe. There are of course differences in the look and feel of each event, but essentially our events in Europe and other areas of the world are delivered to a core plan and the brand of RTE's meetings events is replicated in each location
The creation of both CIBTM and GIBTM was a joint effort with local and national stakeholders, who without their significant support, the events would not have been possible. EIBTM in Barcelona is no different, with stakeholder relationships being vital to the continuing success of the event, so in many ways, the similarities are all encompassing. Certainly the challenges of launching events in two such culturally diverse regions as the Middle East and China has given me significant experience and insight in developing and managing positive business relationships, so I am certainly better prepared to manage EIBTM as a result of working on CIBTM and GIBTM.
Obviously scale is a major difference that I would highlight. Whilst the logistic delivery may well have similar requirements, managing the travel and itineraries of over 3,800 Hosted Buyers is a major challenge as we aim to ensure each Buyer has a tailor made plan that meets their individual requirements. The professional education programme at EIBTM regularly exceeds 4000 attendees across 45 individual sessions so ensuring that the variety and content quality is world class is a major undertaking.
So for EIBTM 2010, we are of course well on the way to delivering another great event. My role this year, and in the future, is to keep delivering an exhibition that exceeds people's expectations, that provides business opportunities for everyone involved, that achieves growth, inspires the industry, and helps engage the leaders of the future. For me, I am highly motivated by the opportunity to lead this iconic event.
2. Social media networks and other modern ways of communication are more and more popular and represent rich source of information and a way to stay tuned with updated news and trends.  How it reflects on Exhibition industry?
Over the past few years, the ways of communicating with an international, regional, and local audience have increased exponentially. Reed Travel Exhibitions has a team responsible for the creation and construction of every event's website.
These are pivotal to the success of communicating on a regular basis because they allow us to make instant changes and updates to ensure all our stakeholders are kept informed.  We are now also creating groups on Linked-In, Facebook pages, webinars, blogs and live tv on websites where just a few years ago none of this was even relevant.
Our portfolio of meeting events around the world puts us in a unique position. We are able to engage with our customers and our industry in a sustained way, providing information, news, and updates that cross cultures and provide insight on a global scale. For us, where a successful testimonial from an exhibitor who has exceeded their business objectives can be caught on camera and posted on Utube, facebook or the event's website, it allows third party endorsement instantly, spreading the word and news to many corners of the globe in an instant.
We will definitely be looking to utlise as many forms of social media as we feel appropriate but also ensuring our messages are focused and relevant.
3. In your opinion, what is the next new-revealed meeting destination?
The RTE meetings portfolio is now represented in 5 countries, Australia, Abu Dhabi, Spain, China, and from 2011, the USA. As a result, our exhibitors represent every corner of the globe with more than 3000 at this year's EIBTM alone!!!! So, its difficult to pin point anywhere that hasn't been touched by the economic impact that the meetings industry has to a city or destination. I will wait to see the results of our EIBTM Industry Trends Report, presented on the opening day in Barcelona which may well shed some light on the upcoming destinations for the future!
4. Do you see South East Europe (Croatia, Serbia, Slovenia, Bulgaria, Montenegro, Romania etc) on a map of meetings industry? Taking into account your proffessional experience, do you have any advice for strategy & promotion for these countries?
We have a large amount of exhibitors representing South East Europe including, Lidia Tours from Bulgaria, Liberty Incentives & Congress, Hilton Athens, A La Carte Travel Ltd, The DMC Greece, Cyprus Tourism Organisation, Slovak Tourist Board, The Slovenian Tourist Board, and Belgrade Convention Bureau, as well as 28 exhibitors from Croatia and 22 from Turkey.
The Serbia Convention Bureau is a good example of why companies should be at EIBTM. They have been exhibiting for the past three years, and they had some 250 business leads from their attendance in 2009 and see the event as key to their meetings business.
Certainly new emerging destinations need to promote themselves in a different way to mature destinations, which is particularly important at events like EIBTM as different strategies and goals need to be established for destinations at different ends of the maturity scale.
5.   Any new plans and interesting views for the up-coming EIBTM show?
Recognising the return on investment that is delivered by attending EIBTM, this year will see more than 20 new exhibitors from destinations to hotel companies, venue services to conference organisers. Among the many new faces will be: Marriott International, Politours, Ilanga Travel, Cruise and Business Events, Divan Hotels, L'AND, LITEXPO, African Conferences, KeyDM, Meeting Point International, Rwanda, Uganda, Nigeria and the Seychelles, Epoque Hotels, Japan National Tourist Organisation, Lithuanian Exhibition and Convention Centre (LITEXPO), Principal Hayley and Indian tour operator Incent Tours. We also have a strong representation from Africa, which is really pleasing as the continent looks to reap the rewards of a successful FIFA World Cup in South Africa.
We're also pleased to be introducing a number of new features to EIBTM in 2010. To name a few, a purpose built Lecture Theatre will be situated on the show floor this year, where events taking place include the Spanish language educational Sessions, and the Daily Technology Hours. The Daily Technology Hours are an integral part of the Education Programme, keeping visitors up-to-date with the latest technological advances in the industry.
This year there will be over 45 sessions within the EIBTM Education Programme – full details of which can be found on www.eibtm.com within the Highlights and Features area of the website.
Another new feature this year is EIBTM's very own "Green Room", which is a dedicated seminar area focussed on CSR. There are a number of sessions taking place daily, which tackle some of the key sustainable issues of today, such as how to be sustainable without blowing a budget, waste management, and reporting on sustainability.
Also new this year are the EIBTM Stand Awards, which have been created to recognise and acknowledge the brightest, busiest and best stands at this year's show.