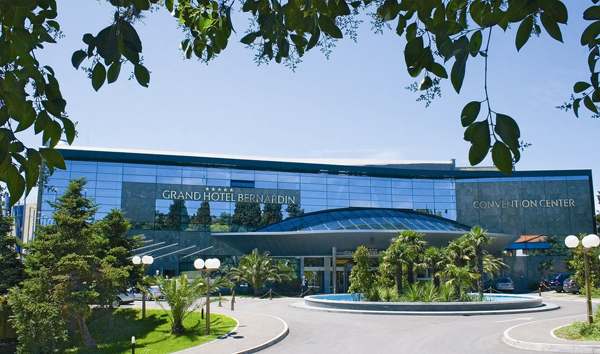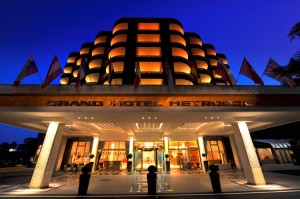 Resort comprises 4 resorts – St. Bernardin, Adriatic Resort & Convention Centre, Metropol Resort, San Simon Resort and Salinera Bioenergy Resort, with a total of 1,645 hotel rooms within five, four and three star category and a total of 3,290 seats in 30 multifunctional meeting rooms, all with state-of-the-art technical equipment and natural daylight.  Additional attractions include swimming pools, wellness centres, casinos and private marina. Promoting Istria and the Slovene Riviera, Bernardin Group ensures the provision of services of the highest quality at some of the most attractive locations in the Adriatic – Portoroz, Izola and Strunjan.
The most important player in the Bernardin Group in the meetings industry is the St. Bernardin, Adriatic Resort & Convention, a hotel complex ideally located on the coast between the medieval Town Piran and modern Portorož. It offers three hotels, of which the five-star Grand Hotel Bernardin, the first and largest convention hotel in Slovenia with 241 rooms and suites, the four-star Hotel Histrion with 276 rooms and the three-star Hotel Vile Park with 239 rooms. The St. Bernardin Convention Centre at the Grand Hotel Bernardin is an extensive venue, designed to meet a variety of functions: conventions, seminars, workshops, presentations and product launches,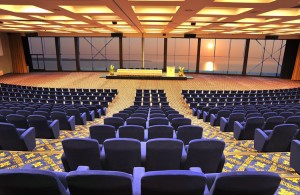 press conferences, business meetings, elegant fashion shows and banquets. With a total of 19 multifunctional meeting rooms and divisible main hall Europe, for up to 1,100 delegates' theatre style, the convention centre is the right venue for up to 2,615 delegates.
The Metropol Resort is a hotel complex located in the close proximity of Portorož. The Metropol Conference Centre in Grand Hotel Metropol is the ideal venue for hosting conferences, educational and other events. The facilities comprise five stylishly equipped multipurpose halls, reception, office and a large lobby designed for exhibitors and mingling during intermissions.
So, why to choose the Bernardin Group Resorts & Hotels? Because once you found them at the Top of the Adriatic Sea, everything related is just TOP; location, facilities, people. Once you experienced it you will never forget it. And at the end they are not the only one, but one the best.