South Africa made its final presentation to FIFA's Executive Committee on the eve of the 15 May vote. Nelson Mandela spoke of South Africa's "committed and dedicated team" and President Mbeki passionately spoke of how "Africa's time has come."
Quietly and with renewed vigour and determination, South Africa's bid committee dusted themselves off and in December 2002 notified FIFA of their intention to bid for the 2010 FIFA World Cup™. On 30 May 2003, South Africa's intention was reaffirmed by way of their government and South African Football Association guarantees to FIFA. Initial awareness for the bid was created by inviting FIFA Executive members to South Africa's local and international 2010 bid launch events. Several meetings were held with FIFA President Joseph S. Blatter during 2003.
South Africa's message was simple but powerful. It had the best stadia facilities in Africa, many already in existence, some to be upgraded, and some new. It had strong commercial backing from leading international corporations, the continent's largest and most stable economy, a sophisticated media and broadcast industry and a huge South African support base from its millions of citizens.
After thousands of hours of flying around the world, hundreds of hours of meetings and frenetic lobbying, South Africa's Bid Committee traveled to Zurich for the announcement of the 2010 FIFA World Cup hosts in May 2004.
_______
Sports tourism is a worldwide money-spinner, estimated to be worth 600 billion dollars a year, attracting high-end spend from millions of sporting fans worldwide.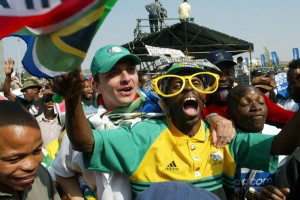 Sport is, in itself, attractive, but this attractiveness is realized through competitions – events – which have to be organized at a particular time and place, in accordance with specific rules.
Competitive sport differs from recreation mainly because it is a sort of ritual, it is standardized, and does not tolerate other, new and free forms of activity.
If a competition, conducted in one or several locations, turns into a system accompanied by activities characteristic of the formation of an integral tourist product, then a sports touristic event is created. The sport will be the primary component, the main value of the offer, but the other values and forms of the offer should be there, and should be stimulating and complementary.  However, there is also the possibility that in some tourist products the sport will be an accompanying event, but so strongly visible that it will decisively influence the overall impression
South Africa will be the centre of the world's attention as the country hosts the 2010 FIFA World Cup™ for the first time in Africa.
The 2010 FIFA World Cup™ will be the biggest cultural and sporting festival South Africa will ever experience according to Japanese football legend, Hidetoshi Nakata, who is in South Africa as part of the FIFA World Cup™ Trophy Tour by Coca-Cola.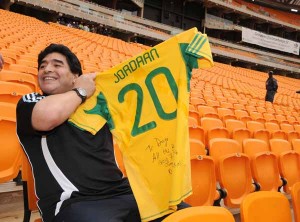 Cape Town is a diverse city and is regarded as the melting point for various different cultures in Southern Africa. One would be hard pressed to find a reason not to fall in love with one of South Africa's most iconic city, Cape Town.
It has one of the most idyllic settings – nestled between the ocean and breath-taking mountains. The iconic Table Mountain rises 1,086 above the city and has served as a mariner's landmark. On a clear day, the flat-topped mountain is visible 200km out to sea.
The "Mother city", as Cape Town is known in South Africa, has an abundance of contrasting activities from lounging on the Atlantic seaboard's popular beaches to exploring the vividly painted area of the Bo-Kaap. Hout Bay is a hub for fishing, especially tuna and crayfish, and the historical naval base at Simon's Town has a fascinating past.
One of the most artistic football venues in South Africa, the newly-built Green Point Stadium is situated in one of the much sought-after areas in the city of Cape Town. Green Point Stadium is one of the two semi-final venues for the FIFA World Cup™.
FIFA Secretary-General Jerome Valcke has described the newly-built Cape Town Stadium as "perfect."
"It's just an amazing stadium, and all the teams who play in Cape Town, will play in a perfect place."
Without wanting to be biased regarding other host cities, he said Cape Town is "one of the most beautiful in the country".
The stadium, which has an exterior that is covered with noise-reducing cladding has a capacity of 70,000 and is scheduled for completion in December 2009. The Green Point Common, on which the new 2010 stadium is being built, was originally much larger than what now remains, and included most of the land between the sea and Signal Hill, stretching from the city centre towards Sea Point.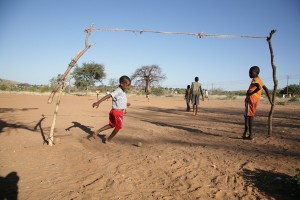 Football supporters who travel to South Africa for the 2010 FIFA World Cup™ will receive the traditional warm South African welcome irrespective of which of the nine host cities they visit. Cape Town, Durban, Johannesburg, Mangaung/Bloemfontein, Nelson Mandela Bay/Port Elizabeth, Nelspruit, Polokwane, Rustenburg and Tshwane/Pretoria will host all of the 64 games over the one month long tournament from 11 June to 11 July 2010 but for Mayor of Cape Town, Dan Plato, it is team work that will win the game.
"We are more than ready to host all the fans during the 2010 World Cup and hopefully thereafter they will return as tourists without their teams. This World Cup will offer visitors a chance to explore the country's attractions and major tourism spots and allow the world to get to know and appreciate South Africa and the continent better", said Dr Danny Jordaan.