Specialties that were on the menu of the wagon restaurant, during 40's which was the most famous period of "Orient Express", served as an inspiration to Chef of the restaurant Kalemegdanska terasa to create a menu inspired by the national dishes of the countries, through which the train was passing. This time Kalemegdan will be the departing point from which this restaurant will take all its guests on an interesting and delicious journey through Turkey, Bulgaria, Romania, Hungary, Austria, Germany and France. When the train stop in Munich guest will have an opportunity to try Bavarian cabbage with sausages, nevertheless if guests wish to travel to France they will be served with duck breast in orange sauce.
Gastronomic adventure in each country, in which Kalemegdan's "Orient Express" stops, will last for 3 days, and it will begin in noon and end at 7.0 p.m.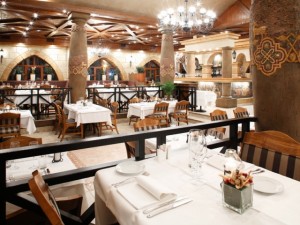 Gourmet schedule
Turkey, Istanbul – 27th – 30th October
Bulgaria, Varna – 30th October – 2nd November
Romania, Bucharest – 2nd – 5th November
Hungary, Budapest – 5th – 8th November
Austria, Vienna – 8th – 11th November
Germany, Munich – 11th – 14th November
France, Paris – 14th – 17th November
More information at: www.kalemegdanskaterasa.com/specijal/orient-express or on telephone +381 11 3282 727.