IFA Events Organiser, Timo Maximilian Fröhlich praised Dubrovnik Sun Gardens' 'great support and collaboration during the 2012 IFA Global

Press Conference' going on to explain that 'each delegate enjoyed their time and gave very positive feedback about the hotel and staff, who were friendly and professional at every moment".
An experienced conference venue, Dubrovnik Sun Gardens has hosted over 80 MICE events for a number of blue chip corporate clients including Motorola and Samsung. The five star residential and leisure resort just 11km from the Old Town of Dubrovnik boasts some of the largest and most flexible meeting space in Croatia and can accommodate up to 860 delegates. The seven meeting rooms are equipped with the latest audio and visual equipment, whilst the resort's residences, sports facilities and al fresco restaurants make for memorable meetings and incentive events.
Julian Houchin, Commercial Director for iO Adria, one of the owning representatives of Radisson Blu Resort & Spa at Dubrovnik Sun Gardens explains that the team is 'very excited to see growing levels of interest and enquiries from Germany, Europe's number one outbound conference market' which is testament to the fact that 'Dubrovnik Sun Gardens is quickly becoming recognized as one of Europe's leading resort conference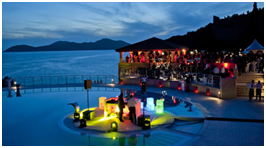 destinations'.
A fully integrated five-star resort featuring a Radisson Blu Hotel, Dubrovnik Sun Gardens also offers the opportunity for corporate investment starting at €170,000 for freehold ownership of a one-bedroom sea view residence; ideal for incentivising employees or rewarding staff.
Over 50 countries attended the conference, the majority coming from Germany, Italy and South Korea. Renowned publications such as the BBC, CBS News, Fox News and Frankfurter Allgemeine were also in attendence.
Delegate Rates:
58 Euro per person (excluding accommodation);
238 Euro per person (including accommodation) during the main conference periods.