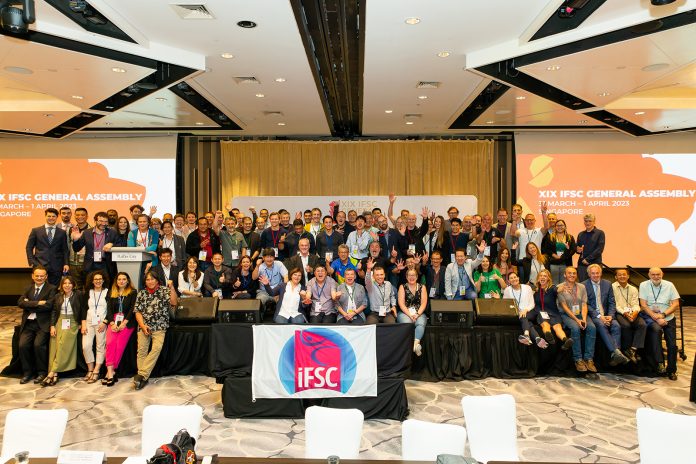 The XIX International Federation of Sport Climbing (IFSC) General Assembly got underway earlier today (31 March) at the Swissôtel The Stamford in Singapore, with 65 delegates from 46 National Federations making the trip to the southeast Asian country.
On hand to welcome the delegates was IFSC President Marco Scolaris, who thanked the Singapore Sport Climbing and Mountaineering Federation for hosting the annual event during his address and went on to highlight the importance of coming together and shaping the vision and long-term success of the sport.
International Olympic Committee (IOC) President Thomas Bach spoke to the attendees via video message, in which he acknowledged the work done by the IFSC in planning for the future and for its excellent preparations for the Olympic Games Paris 2024, specifically referencing the Olympic Qualifies Series (OQS), a new IOC-led Olympic qualification event hosted in compact city centre venues over four days between March and June 2024 that will include four sports – BMX freestyle, breaking, skateboarding, and Sport Climbing.
"We are excited to have the IFSC and the Sport Climbing community on board for this innovative festival of sport and culture," President Bach said. "Bringing sport to where the people are and highlighting the achievements of the athletes on their road to Paris 2024. In doing so you are once again leading by example, and this is something you can all be very, very proud of."
Bach continued: "From the OQS to promoting gender equality, to strengthening clean sport or developing robust safeguarding measures, at the IFSC you are promoting sport and its values in an exemplary way." To see the full message from President Bach click here.
The General Assembly voted to accept five new National Federations from Iceland, Kosovo, Kuwait, Lebanon, and Morocco, bringing the total number to 99 members. There were also changes in representative bodies in Azerbaijan and name changes for four Federations.