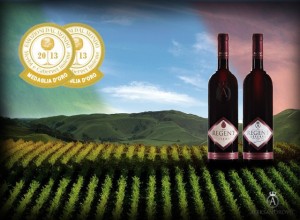 In Italy, a country of red wines, at one of the most prestigious competitions "Emozioni dal Mondo Merlot e Cabernet Insieme", Aleksandrović wines Regent Reserve 2008 and Regent Reserve 2009 won two gold medals among the wines from all around the world.
Merlot and Cabernet from our vineyards located on the slopes of the winegrowing hill Oplenac, together with the knowledge and skills of our winegrowers and enologists, paired with the special characteristics of our region and climate make the unique exotic smells and tastes leaving no one indifferent.
In addition to these medals, Regent Reserve 2008 also won the silver and bronze medals in London (International Wine & Spirit Competition and Decanter World Wines Awards) and in Vienna (AWC).