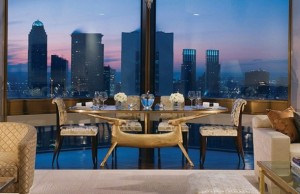 The leading team of the New York "Four Seasons" hotel counted on the fact that a good sleep has no cost! Therefore, one overnight stay in the "Warner Penthouse" suite costs no less than 35,000 US dollars.
The suite takes up 400 square metres, comprising of a bedroom with bathroom, drawing room and the library, dressing room, room for breakfast, make – up and meditation rooms. The bedroom is furnished with a king – size bed with a Swedish hand – made mattress which costs 60,000 US dollars, with the 22-carat gold fibres interwoven in the canopy covered with Thailand silk. The walls of the suite are decorated with mother – of – pearl and semiprecious gems, sometimes upholstered with soft calf skin. The Penthouse also has the widest glass sliding door ever made. For a complete pleasure, one finds original art works, paintings and sculptures, as well as a butler who is 24 hours at disposal. You can phone from the Penthouse anywhere in the world and keep talking for as long as you please, as all calls are included in the price. You reach the suite by one of three elevators at your disposal, as they can be opened by a special key only. If you intend to take a walk or go shopping, you can use the services of the hotel car park. The chauffeur will take you to your chosen destination in a Rolls Royce or a Maybach, depending on your choice.
With all this luxury, however, there are still certain limitations. The suite can only accommodate two persons with one child or three adults.