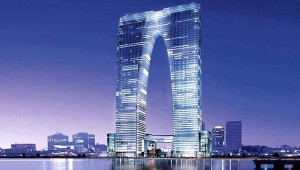 The skyscraper "Gate to the East" which is under construction in China may become one of the strangest buildings in the world.
The reason for this is the form of the building, which reminds most people of a pair of trousers. The skyscraper represents a $700 million investment and was meant to provide a spectacular and distinctive view to the east, one that would overshadow even the Triumphal Arch.
This building is a work of a British architectural firm, and sholud represent the importance of China in the modern world.