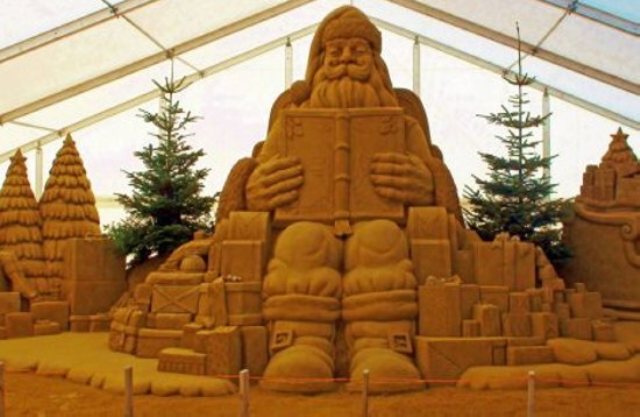 The biggest Santa Claus made of sand stands 5.5 m high and was made at the Festival of sand figures in Denmark. Besides Santa Claus, there are sculptures of presents, Christmas trees, and sleighs.
Since sand-sculpting is an extremely difficult and demanding job, the making of Santa took 150 days and 270 tons of sand.
Considering that sand is a tricky material to work with, sculptors use a special type of sand for their sculptures. The sand must contain the right grains and a specific clay content, which is pressed and formed into great square blocks. The blocks are then piled on each other like building blocks. During this process, water is poured over the sand so the sculpture will remain firm.
After piling the blocks to the desired height, the sculptors can begin modelling the sculpture with great attention to proportion.
The sculpture of Santa Claus is the work of Lucas Bruggemann, Remi Hogard, Paul Hogard, and Etual Ojeda.