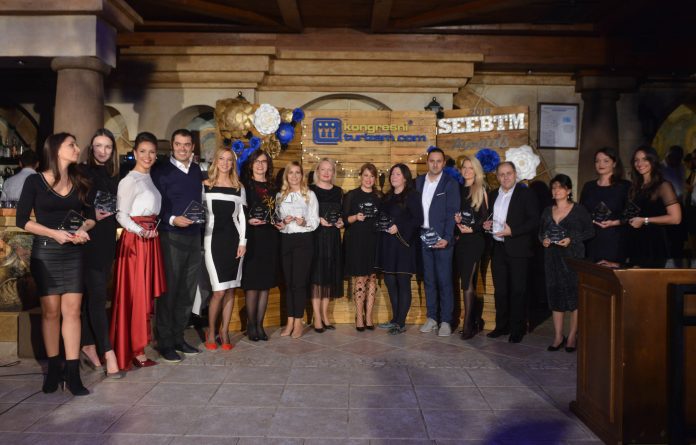 In the organization of portal Kongresniturizam and the specialized magazine SEEbtm, on November 15th, in Belgrade, the meetings industry of the region was traditionally gathered for 7th time on SEEbtm Party, an event which profiled itself as a strong networking platform of key stakeholders in the meetings industry and event management.
At this gathering, SEEbtm Awards, launched in 2016, were given to the best hotels and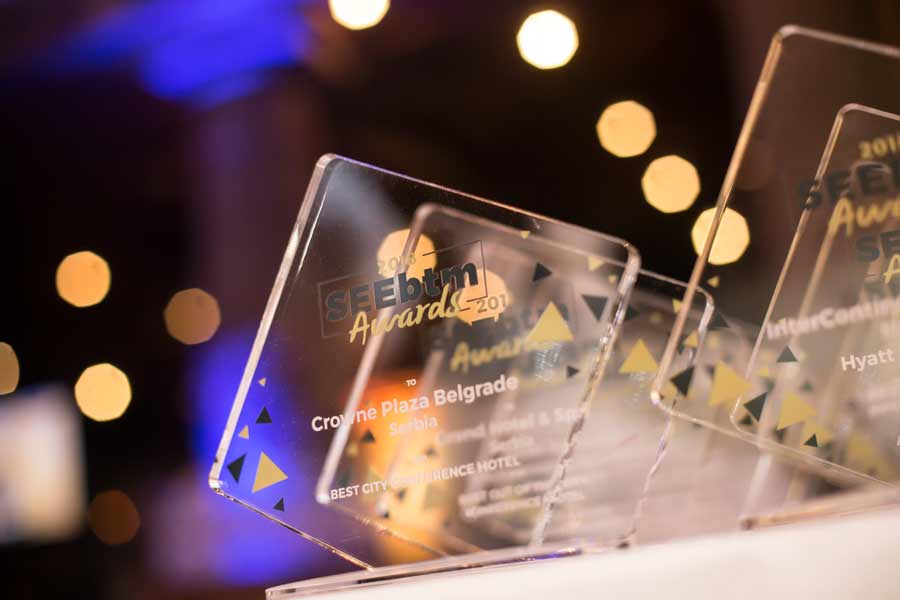 venues in our region in 17 categories based on the votes of those who are buyers in meetings industry – people from the meetings industry in region, clients of nominated candidates and SEEbtm magazine team. Especially important was the innovation in the voting – an expert jury, composed of representatives of the most eminent companies and organizations that organize events in the region, and members voted for the best, according to their experience and opinion.
"Our goal is to remain the center of stimulation of regional cooperation, for which we have been dedicated for more than a decade. Bearing this in mind, we continue working on merging the markets of Southeast Europe in order to make quality changes in the international market by joint efforts. We congratulate all the winners and we are grateful for the long-standing cooperation and support. The concept of these recognitions will stimulate us to be even better, more dedicated and innovative, and all our partners, too", said Miona Milic, Managing partner of the Kongresniturizam portal and Editor-in-Chief of SEEbtm magazine.
OVERVIEW OF THE WINNERS
Best City Conference Hotel
Crowne Plaza Belgrade, Serbia
Best Out of the City Conference Hotel
Grand Hotel & Spa, Serbia
Best Seaside Conference Hotel
Hotel Splendid Conference & Spa Resort, Montenegro
Best City Hotel for Meetings & Events (up to 150 rooms)
Hotel Galleria, Serbia
Best Out of the City Hotel for Meetings & Events (up to 150 rooms)
Termag Hotel Jahorina, Bosnia and Herzegovina
Best Seaside Hotel for Meetings & Events (up to 150 rooms)
Hotel Palma, Montenegro
Best City Hotel for Meetings & Events (more than 150 rooms)
Falkensteiner Hotel Belgrade, Serbia
Best Out of the City Hotel for Meetings & Events (more than 150 rooms)
Terme Olimia, Slovenia
Best Seaside Hotel for Meetings & Events (more than 150 rooms)
Lafodia Sea Resort, Croatia
Best New Hotel (opened in 2017/2018)
Hilton Belgrade, Serbia
InterContinental Ljubljana, Slovenia
Best Conference and Banqueting Staff
Hyatt Regency Belgrade, Serbia
Best Special Venue
Top of the Hub, Serbia
Best Wellness and Spa Hotel
Hotel Izvor – Congress, Spa & Wellness Resort, Serbia
Best Luxury Hotel (up to 50 rooms)
Lazure Hotel & Marina, Montenegro
Best Luxury Hotel (more than 50 rooms)
Radisson Collection Hotel, Old Mill Belgrade, Serbia
Grand Hotel Tornik, Serbia
Best Small Business Hotel
Hotel Constantine the Great, Serbia
Best Congress Venue
Congress Centre Master, Novi Sad Fair, Serbia