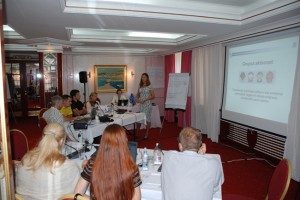 Organization – Public Events Ltd.
After the opening statements given by Zoran Martinovic, State Secretary, and the head of the IOM Belgrade, Lidija Markovic, 20 officials of the relevant governmental institutions, including the Ministry of Labor, Employment and Social Affairs, Ministry of Interior, Ministry of Foreign Affairs, National Employment Service, Office of the Commissioner for Refugees, as well as two representatives of the European Commission Delegation in Belgrade, took part in the training, which was led by experts from Vienna and Belgrade IOM offices.
That was an opportunity for officials of the institutions to present situation in the country in that area and during two days of intensive work experience and learn about current practice in Europe and share experience. The special interest was attracted by the presentation of the program for Temporary return of highly qualified professionals from the Diaspora, which was implemented by IOM within MIDWEB Project.