Tourist Complex Kalamper comprises new exclusive facilities on Montenegrin coast, in Bar, which is characterized by a modern and luxurious design. The guests can enjoy comfortable rooms with sea views, a fantastic lounge bar on the hotel roof and use a wide range of offers of the complex.
It is located 5 km from the Old Town of Bar, 12 km from the Port of Bar, 10 km from the train and bus station in Bar, and 50 km from both the airports in Tivat and Podgorica. The hotel has 24 accommodation units, out of which 17 standard rooms, 6 suites and a Presidential Suite. It also has a conference room, equipped with the latest technology, Spa & Wellness Center, Lounge Bar and Restaurant. Highly professional and friendly staff of Kalamper Hotel & Spa Team is at the service of all hotel guests, thus complementing the impression and experience.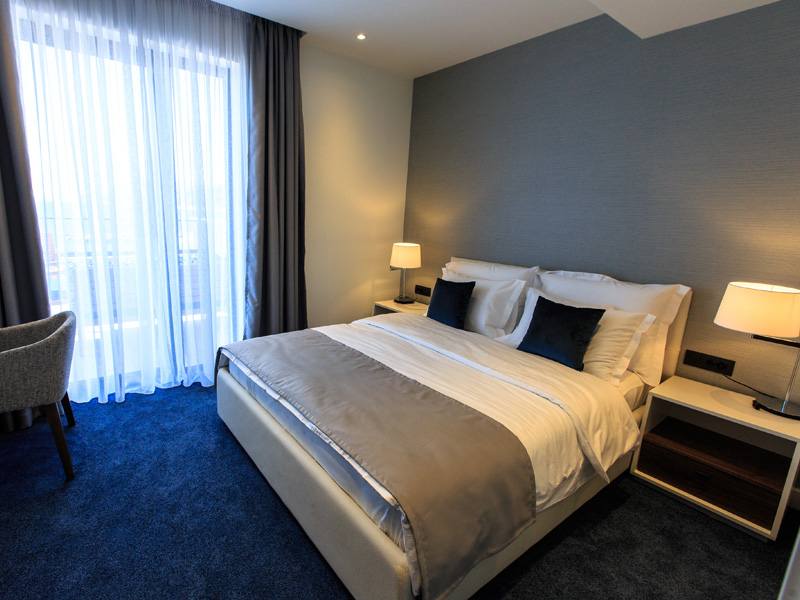 The Great Sand Bay has a fine, sandy surface under the water and on shore. Due to the extraordinary location, you can enjoy a fantastic sunrise and sunset. The arranged swimming area stretches at 100 m of the beach with a beautiful terrace and beach bar. The Kalamper Beach and the Beach Bar include: umbrellas, deck chairs, dressing rooms and showers. The guests have on disposal the water and sand sports.
The conference room, with a capacity of about 65 seats, is a great place for organizing all kinds of business meetings and contains a complete equipment for audio-visual presentations. Spa & Wellness center is spread over 1,200 m2 and contains the large pool, child pool, cold pool and jacuzzi, Turkish bath, salt room and sauna. Special moments of relaxation can be supplemented with various kinds of massage. In the Spa center you can find the highest quality cosmetics offer. It also comprises a fully equipped gym and children's playroom.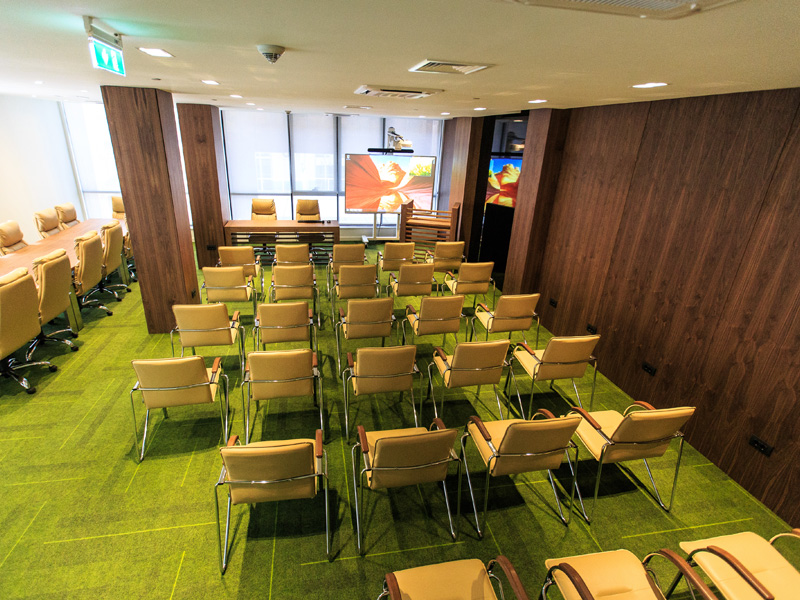 Lounge Bar is located on the roof of Kalamper Hotel & Spa. Here the guests have on disposal the outdoor swimming pool with deck chairs, with a view of the sea from the terrace, adapted for an absolute enjoyment and relaxation, complemented by an appropriate music played. Guests are offered attentively chosen food and beverages.
The restaurant has 65 seats indoor and 70 seats on the restaurant terrace. It is an ideal place to relax and enjoy the specialties of local and international dishes, which are carefully selected, while an amazing drink menu makes the offer complete.
If you are a fan of the Mediterranean spirit and good food, and you enjoy the seaside atmosphere, a new Kalamper Hotel & Spa is an ideal choice for meetings, seminars,
conferences, as well as complete relaxation and enjoyment.