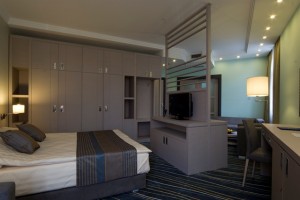 After a complete renovation, the Hotel Prag beside 82 rooms, restaurant and pub, also offers 3 conference rooms and 2 business offices. Conference facilities offer contributed that hotel, beside four star category acquire a business hotel category.
Management of the hotel is proud on having the opportunity to host a number of companies, associations, organizations, agencies that have organized seminars, educations, trainings, team buildings, conferences.
Hotel Prag continues the tradition of one of the oldest hotels in the capital and adapts to the needs of the present.
Combination of many years of experience in providing accommodation and food service and adapting to the needs of the modern hotel industry have resulted in a diverse range of services.
Plan of hotel management is to last and to improve in further, as in the 85 years old  history of the hotel.