[quote_box_center]Hotel Budva is a newly-built four+ star hotel that enjoys a great location in the heart of Budva's city centre. It is situated on the main promenade, just by the sea and in immediate vicinity to the Old Town and Marina. Surrounded by a shopping mall, numerous beach bars, night clubs and discos, Hotel Budva is the perfect choice if you like to experience the attractive day and night life of the town of Budva.[/quote_box_center]
It takes less than 30 minutes to arrive from the Hotel Budva to the Airport of Tivat, while the Podgorica Airport is an hour drive away.
Budva is a specific Mediterranean combination of landscape, history and culture in the south part of the Adriatic coast. Inside and in the near vicinity, Budva hides a unique history over two and a half millenniums long, positioning it among the oldest urban centers of the area.
With modern contemporary design, elegant furnishings and high class equipment, all rooms in Hotel Budva are designed to satisfy experienced travelers and to provide them with superb comfort. Every room has a small working desk, walk-in wardrobe and saloon chair.
All rooms are equipped with soundproof windows and fireproof doors. Baby crib is available upon request.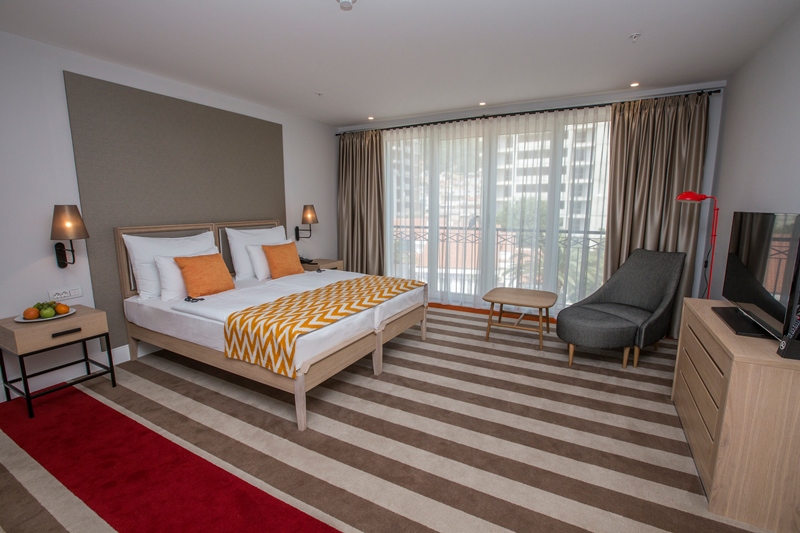 Situated on the main floor, Restaurant and aperitif bar offers contemporary cuisine and modern updates to classic favorites, along with a list of carefully chosen wines and handmade cocktails.
Our menus feature seasonal ingredients sourced from local farmers and producers, all of which are proud to have HACCAP certificate.
Modern outdoor pool on the terrace can be a great venue for cocktail parties, receptions, private parties or just relaxing with excellent refreshing cocktails and fresh fruits.
For the end of 2015 conference rooms are expected to be finished. Large hall will have a capacity of up to 320 people, while 3 smaller rooms will be ideal for workshops and trainings. With highly designed space to the smallest detail and modern technical equipment Hotel Budva will definitely be a must place for events in Budva.