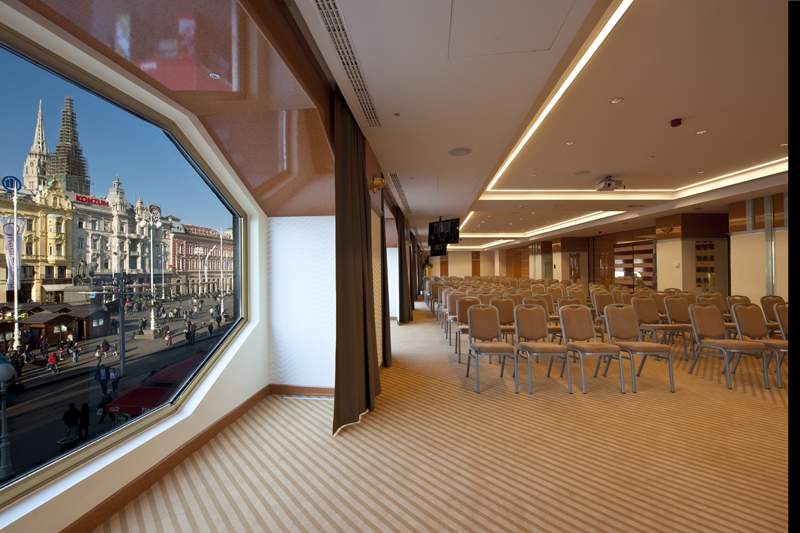 Built in the thirties of the last century on the south side of the Zagreb square, Hotel "Dubrovnik" with its architecture and large panoramic windows overlooks the square as a "live stage", seems a lot younger,  almost contemporary.
Annex, called "the glass building" is built in the eighties and is very much a part of the trend today…
After last renovation, just finalized, "Dubrovnik" in its interior reached rebirth – spacious, modern rooms filled in with original and witty details insures all necessities to business people just at reach of a hand (or a laptop). It offers high value as the business Hotel in the very heart of the metropolitan City, just a few steps away from all important institutions in Zagreb and Croatia.
No wonder that during the week hotel's clients are business guests coming to Zagreb and finding a trustworthy partner in "Dubrovnik".
Its business character Hotel "Dubrovnik" underlines with newly refurbished congress center which can gather up to three hundred participants in the grand multifunctional congress room and nearly as many in other smaller meeting rooms, all equipped with the most sophisticated conference technology. Interconnecting meeting rooms are suitable for meetings, seminars, presentations, corporate celebrations, promotions as well as wedding celebrations at weekends. Special atmosphere created by light show enables each organiser to "paint the entrance" with its colours and personalise the space.
Hotel "Dubrovnik" offers a private parking to its guests which adds another advantage and underlines the business character.
Besides highly sophisticated business contents Hotel "Dubrovnik" has a sole. Both are presented at a very doorstep, famous café where all the greatest names of Croatian politics, culture, sports and many others visiting Zagreb have sat in. Like other European most respected cafés, the one in Hotel "Dubrovnik" can  be proud of its quiet atmosphere, great service and unforgettable homemade cakes at chef's secret recipes.
Saying that our rooms are spacious and comfortable granting complete relaxation imposes the need to reflect to Piccolo Mondo restaurant which offers not only Italian cuisine but international, Croatian and Zagorje specialties.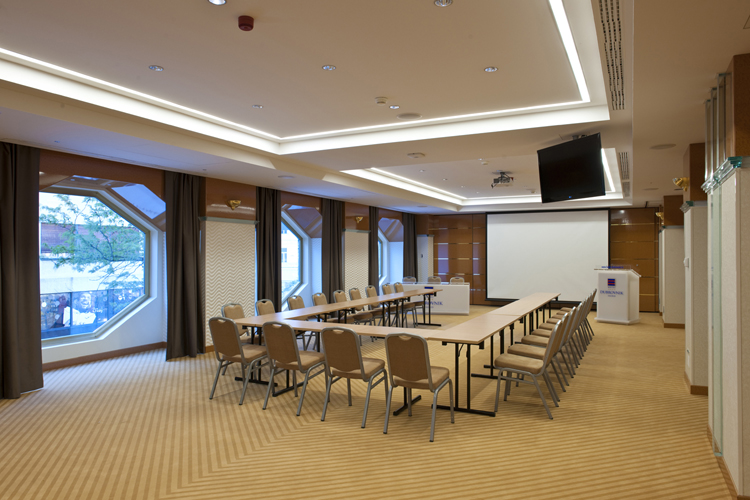 All that makes Hotel "Dubrovnik" a true tourist destination of guests coming to Zagreb as a cultural and historical metropolis. In constant search to offer more to its guests Hotel "Dubrovnik" prepares a line of promotional packages, specially to its regular clients.
Amongst recent promotions are packages including a visit to Zagorje Spa to hotel guests tasting authentic cuisine, enjoying original offer of the Zagorje agro tourism (one day or a half day trip).
Anyway you turn, being a business guest or just a curious tourist Hotel "Dubrovnik" is everyone's ­ true partner. That is the reason why all employees of this Hotel love to present the Hotel with words: "Hotel Dubrovnik – your host in Zagreb."