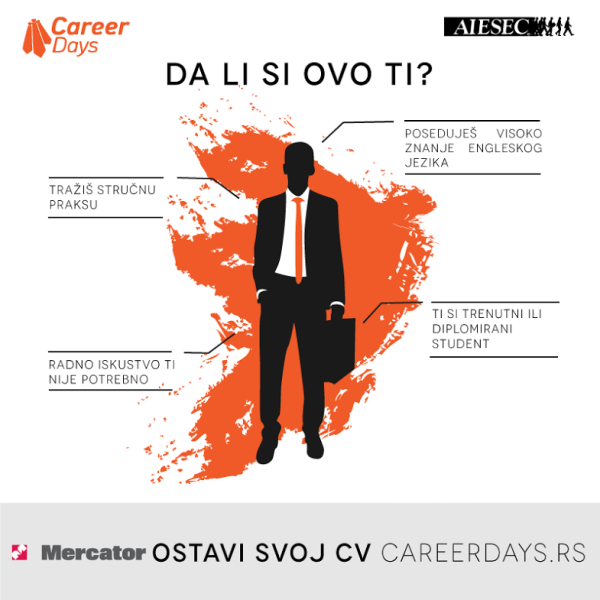 Career Days Project, which has been organized for twenty-two years by the local AIESEC representative office within AIESEC organization at the Faculty of Economics in Belgrade, endeavors to provide all necessary support to young people in finding the right way to their dream careers.
"Career Days 2016", known as the biggest national fair of skills, workshops, work experience and jobs, will be held on March 15th – 16th, 2016 at the "Crowne Plaza" hotel in New Belgrade.
Visitors will have the opportunity to socialize with the representatives of our age-long participating companies such as Delhaize Serbia, Mercator S, Gebrüder Weiss, Sberbank, E&Y, Strabag, KPMG, Heineken, Metro Cash&Carry, Deloitte, Heineken, Mol Serbia, PwC i TMF and get to know their ways of doing the business. Besides these, the fair will also host Air Serbia, Image Z, Tehnomanija, Procter & Gamble, NLB banka, Sitel SBA i Leovit.
The fair includes CV writing to meet the needs of the representative companies so that they could be stored in the data base and thus be available to the companies for one year. This kind of communication makes it possible for the managers to get in contact with the candidates for a job or work experience at any time.
You can leave you CVs on the following link.
This year's innovation includes speed dating which provides the visitors with the opportunity to participate in job interviews, to talk to potential employers and show their qualities and willingness for professional development. These, of course, enhance their chances to get a job.