This year's 22nd EIBTM has attracted 3,125 exhibiting companies from over 90 countries and created three days packed with non-stop meetings and activities. Having launched many new features, created a record 59 professional education sessions and held over 100 events in and around the show, the objective for the organisers Reed Travel Exhibitions has been to drive business and deliver value for all those attending the event.
Whilst EIBTM took place in the week that saw some of the worst weather conditions to hit Northern Europe in many years, all stands were open for business from the first day of the event. However, some Hosted Buyers from the UK were stranded when Gatwick closed and remained closed for 48 hours. As a result, this year's unaudited figures will reflect a small drop in Hosted Buyers – currently 3,582,245 less than 2009. Nevertheless, the number of trade visitors was 4,010, reflecting a 5% increase on last year. Total attendance at the show reached 8,395, a 1% increase on 2009. "We tried to do everything in our power to get these Buyers out of the UK but sadly, the conditions prevented them from leaving. However, we are obviously delighted that those who did get to the event – some having travelled via alternative routes, and many taking up to 12 hours to arrive – proved that this was where they needed to be for their business", said Graeme Barnett, Event Director for EIBTM.
Barnett added that the RTE is in the process of contacting every Buyer who did not make it to the show to help them make contact with the exhibitors they had planned to meet. "Yesterday (Thursday, December 2nd), we chartered a plane to get 224 of our Hosted Buyers and Exhibitors back to the UK and we organized coach travel on arrival back in the UK", commented Barnett.
One of the new initiatives this year was the introduction of EIBTM TV – a live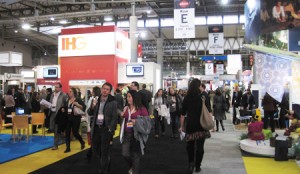 news channel broadcast on screens around the show floor. Also online at www.eibtm.com, the content means that those Buyers who did not attend have been able to view three days worth of event news and will be able to see the education sessions and presentations as well at a later date. After a series of successful presentation of meetings industry of the region of Southeast Europe, The Best Solutions company performed for the third time at one of the largest meetings industry trade show – EIBTM 2010. At EIBTM, held this year from 30 November to 2 December in Barcelona, Spain, The Best Solutions company presented more than 250 hotels, professional agencies, convention and business centres and venues from Serbia, Montenegro, Croatia, Slovenia, Bulgaria, Romania, Bosnia and Herzegovina, Macedonia, Bulgaria and Romania through its media. Meetings planners guide for SEE region SEEmice 2010, and the latest edition of SEEbtm magazine – with cover story Congresses in medicine and pharmacy, have caused great interest among regional and international buyers.
At EIBTM this year, as a destination of SEE region, Serbia, Croatia, Montenegro and Slovenia were presented with stands, with total of 63 exhibitors, representatives of the meetings industry – agencies, hotels, convention centres and the national airline companies, with the large number of exhibitors from Croatia. The Serbian stand presented live knitting of Serbian peasant shoe, while Slovenia's stand promoted green (eco) concept with green apples.
As regards the economic situation, slowly the recovery is starting to be talked about. Numerous studies and statistics indicate that. MPI Business Barometers in 2010 indicated that the industry was continuing its recovery at a steady pace. The majority of August 2010 Business Barometer respondents (62 percent) indicated that current business conditions were better than a year ago.
Corporate budgets for meetings and events were widely expected to grow in 2011. For example, in the British Meetings and Events Industry Survey corporate respondents reported an average 5.6 per cent increase in their budgets for 2011 – although association budgets were predicted to fall by an average of 1 per cent.
For more information, see EIBTM Industry Trends report 2010 by Rob Davidson, EIBTM Industry trend Analyst: http://www.eibtm.com/files/eibtm_2010_industry_trend_report.pdf
Author: M.Š.