Crotour 2010 (14th – 17th April 2010) was again held under the auspices of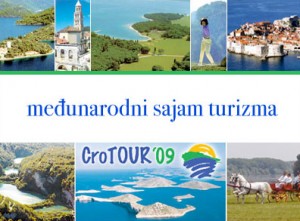 the Ministry of Tourism of the Republic of Croatia and with the support of the Croatian National Tourist Board and the World Tourism Organization (WTO).
Crotuor will be the meeting point of the tourist supply and demand from the SEE region, as well as the "last minute booking 2010" and negotiations for 2011. In parallel with Crotour tourism exchange, "Buy Croatia" – the tourism exchange of the Croatian National Tourist Board will take place. Crotour 2009, at 9,000 sq m of exhibiting space gathered 282 exhibitors from 25 countries, 68 representatives of tour-operators from 20 countries and over 15,000 visitors.