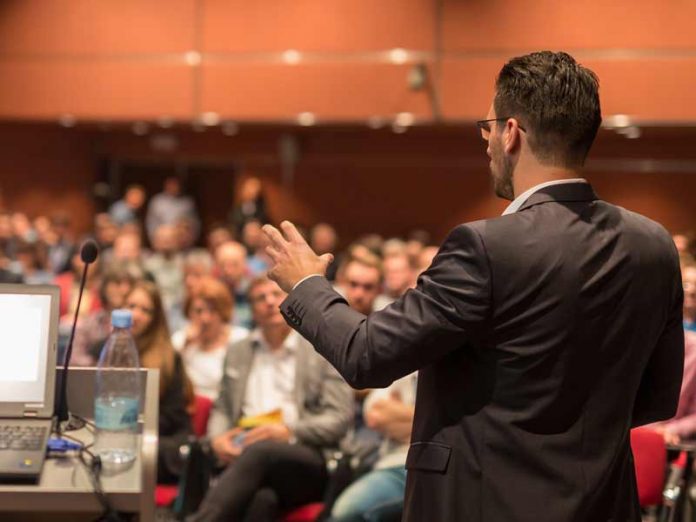 Country and destination branding is the topic that has been attracting interest from tourism professionals for years. Nevertheless, after much research written on this matter we can conclude that there is no universal formula that could be applied in all cases.
Simply said, branding a country is far more complex than branding a certain product or a service. This already complex task is additionally complicated if a country has suffered from some of the very well – known crises which affect overall tourism activities. Crises can appear in many different forms – the question is, how to rebuild the reputation of a country
that has suffered from crises? Some countries have tried to build their international image as a perfect place for foreign investments such as the UAE or Qatar. However, unlike other crises that affect country's image, it is civil conflicts that tend to have long-term consequences for the national brand. The real question is how we can rebuild its image and improve the perception of foreign visitors.
However, a study recently done by Dr Rob Davidson, one of the most distinguished professors and consultants in MICE industry who recently received a Lifetime Achievement Award at IBTM in Barcelona, and our young academic Dusan Borovcanin from Singidunum
University reveals that congress tourism can be part of the solution for improving the image of Belgrade and Serbia as tourism destination. The study involved people who visited Serbia for the first time, and whose primary motivation was to take part in a business event. As it is well-known, business travelers are not the ones who decide which destination they will visit. Usually, it is the organizers of the event that do so.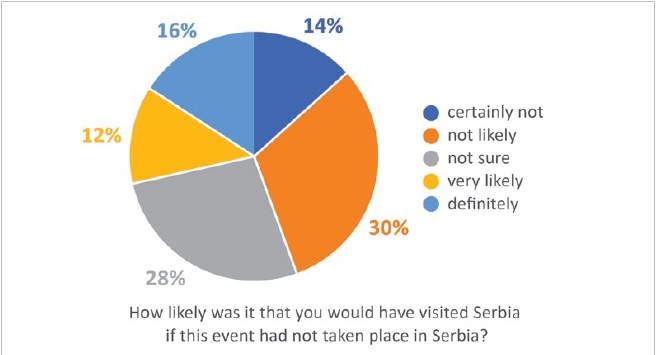 For that very reason, the authors of this study were interested in learning what was the perception of participants at business events before they came to Serbia for the first time and comparing it with their perceptions after attending their congress and experiencing
the destination for themselves. The results of the study presented at the annual conference of ATLAS (Association for Tourism and Leisure Education) reveal that the image of Serbia as a conflict destination still exists to some extent. The main source of this perception are mass media such as TV, newspapers and internet.
However, what is encouraging is that the perception of foreign travelers has changed dramatically from the moment they visit the country for the first time. The most dominant factor that affects their perception are "people" as they claim, i.e. local population whose friendliness and warmth breaks down the myths of Serbia as a warlike nation. Although "people" are on top of the list, they are closely followed by factors such as "gastronomy" and "nice climate",
as well as price competitiveness.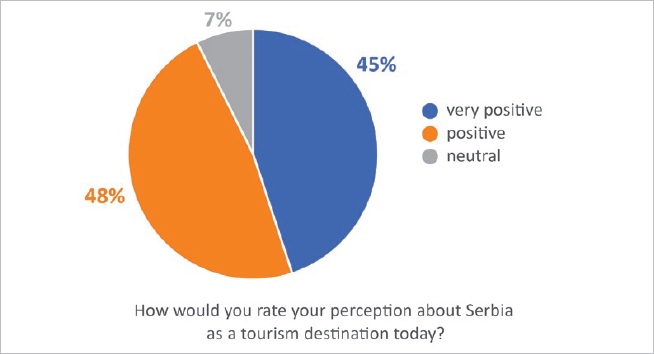 One of the significant findings is that business travelers, after they had visited the country for business purposes, showed a significant intent to visit Serbia again, only this time for leisure purposes. This research demonstrates the image-changing power of the congress industry. Besides direct and indirect economic impacts it leaves on the country's economy, the congress industry significantly contributes to the improvement of the international perception of Serbia as a nation. The conclusion from this research is perfectly aligned with the actual trend of business tourism in Serbia. Belgrade jumped from 120th to 51st position on the ICCA (International Congress and Convention Association) list from 2008 – 2016 and Serbia as a country moved from 55th to 48th place internationally, as well.
This shows that Belgrade and Serbia are rising on the international market as a new, interesting and inspirational destination that can meet the needs of highly demanding business travelers. Finally, it is evident that, as a country, we are earning significantly from congress
tourism, but can we use congress industry as one of the key factors for positively branding our country? The authors of this study are certain we can.
Dusan Borovcanin,
Master of Economy,
Teaching Assistant at Singidunum University
Dr Rob Davidson,
Managing Director at MICE Knowledge