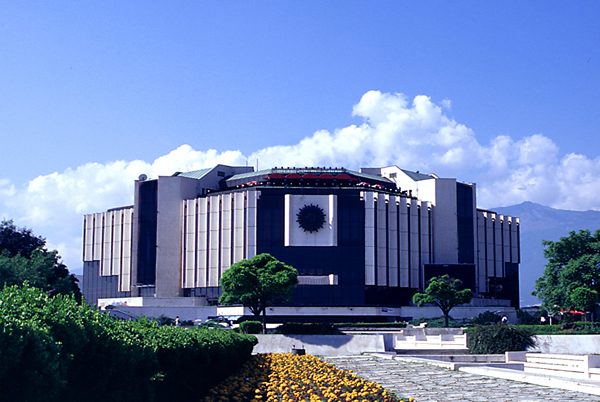 Surrounded by a beautiful leisure park, with a magnificent view of Mount Vitosha in the background, the Congress Centre reflects such a singular personality of Sofia, even in the essence of the building itself.
Winner of the 2008 EBA "European Quality" Award and the 2005 AIPC Apex Award for the "World's Best Congress Centre", Member of ICCA and AIPC, the venue was the host of the 62nd Summer Congress of NATO Reserve Officers 2009, the European Philatelic Exhibition Bulgaria 2009, the Energy Summit "Natural Gas for Europe: Security and Partnership 2009, the World Chess Championship Semi-final 2009, the 2006 Meeting of NATO Foreign Ministers, the 2004 OSCE Annual Ministerial Council Meeting, the 2002 Parliamentary Assembly of NATO, and many more.
The venue boasts 15 halls with a capacity ranging from 100 to 4000 seats and 55 meeting rooms. Over the years it has become the hub of an active intellectual and cultural life, whose stages have been honored by Herbert von Karajan, Claudio Abbado, Riccardo Muti, Jose Carreras, Andrea Bocelli, The Bolshoy Theatre, La Scala, The London Symphony Orchestra, The Vienna State Opera and The Royal Swedish Ballet. Vladimir Putin, Pope John Paul II and Bill Clinton are just a few of the dignitaries who have visited the Centre.
Remarkable for its architectural, artistic and functional merits, the venue offers the highest level of services sophistication, facilities and state-of-the-art equipment. With no subsidies from the government the venue is entirely self-supported. As part of its social responsibility program, Congress Centre-Sofia has become the largest public establishment in Bulgaria, which is fully accessible for wheelchairs and handicapped visitors. The venue has also implemented discounted rates for pupils, students and pensioners.
EVENTS LIST
• 62nd Summer Congress of NATO Reserve Officers 2009
• European Philatelic Exhibition Bulgaria 2009
• Energy Summit "Natural Gas for Europe: Security & Partnership 2009
• World Chess Championship Semi-final 2009
• 2nd Extraordinary Session of the Intergovernmental  Committee for the
Preservation of the Intangible Cultural Heritage of UNESCO 2008
• CEI Summit of the Heads of Government 2007
• PES Council 2007
• Informal Meeting of NATO Foreign Ministers 2006
• 2nd International Congress of Energy Efficiency and
Renewable Energy Sources 2006
• 3rd Symposium of Dermatology and Venereology 2005
• 53rd Liberal International Congress 2005
• South-East Economic Forum 2005
• International Forum of Pain Medicine 2005
• 12th Meeting of the OSCE Ministerial Council
• Annual Session of UNICEF
• 13th Regional Conference of FAO for Europe
• 23rd General Assembly of UNESCO
• General Assembly of the World Tourist Organisation
• 80th Conference of Inter-parliamentary Union
• 17th Congress of International Federation of Philatelists
• 21st World Congress of FIATA
• 35th General Assembly of AIPC
• 5th Annual Meeting of the Board of EBRD
• 11th General Assembly of ICOMOS
• 6th World Convocation of Prison Fellowship International
• Spring Session of the Parliamentary Assembly of NATO 2002