Guests from all around the world have chosen for their holiday 'the Pearl of the Adriatic', as this hotel is widely known, mostly during Easter and Labour Day seasons. 100% occupancy is traditionally contributed by guest from West Europe, Serbia and Russia, who are at the same time most frequent guests of this hotel all year round. However, some markets have been a pleasant surprise such as the USA, Thailand, China, Israel, and there is a considerable increase in guests from Scandinavia. Just how well-attended the hotel was and how diversified the guests were is reflected in the fact that Splendid was host by 57 different nations in early May.
Interestingly enough, the Russian astronaut, Oleg Kotov, used his five days of annual holiday at the hotel in Bečići, with his wife and two children, while getting ready for a new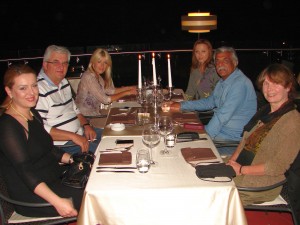 space campaign due 15th May.
All eyes, though, were on the Italian sports stars – Roma's former football player Vincent Candela and Formula One driver Giancarlo Fisichella, who arranged a birthday party with his children for his five at no other place than Splendid. Nothing less attention and surprise was drawn by the stay of one of the most influential authors today, Tariq Ali, who following the opening of the International Book Fair in Podgorica, stayed with his wife at Splendid, patiently signing his books, which were sold like hot cakes in the hotel's bookstore during his stay at Splendid.