For university students all over Serbia practical knowledge and experience is becoming more and more important. Learning through real life examples helps students better understand what their future job will look like.
Solving real life problems is essential, especially for students of management and information technologies, since these two fields are very connected to the business world and real life problems. Because of these reasons, the case study methodology has been applied in universities across the globe.
The Faculty of Organizational Sciences (FOS) is a pioneer in adopting this methodology in the university curriculum. At the initiative of Professor Vesna Damnjanovic PhD the case study methodology has been applied in extracurricular actives as well. This innovation resulted in a new opportunity for competitive students – to participate at global case study competitions. This success was followed by an even greater one – founding of a global case study competition Belgrade Business International Case Competition (BBICC) in 2013. This year, BBICC is being organized for the eighth time in a row. The organizers of the competition are the Faculty of the Organizational Sciences and Case Study Club, a student management consulting organization. BBICC will host student teams and their advisors coming from 20 prestigious universities and business schools. The event will take place on March 29th – April 4th in Belgrade.
What is a case study?
"The case study methodology is an interactive method of learning created at Harvard University. It is used in various fields, such as medicine and law. We use it in business. How does that work? The case study presents a problem or a challenge that an organization is facing. The organization can be a small organization, a large company or even an NGO. The students take the role of the decision maker as they try to come up with the best solution for the problem. They analyze data, identify challenges and come up with suggestions. " – said Professor Vesna Damnjanovic PhD, general director of BBICC and a case study mentor at FOS and Case Study Club.
BBICC is ranked in the top 10 global case competitions in the world, based on the criteria of the eminent University of Auckland, a case study pioneer. During BBICC 80 students from 20 prestigious universities and business schools will spend a week in Belgrade where they will try to solve three challenging case studies for three successful companies.
Participation in case study competitions is an unforgettable experience for students. In addition, it is an opportunity for them to gain knowledge and solve realistic business problems, which is excellent practice for their future jobs as well as a great addition for their CVs.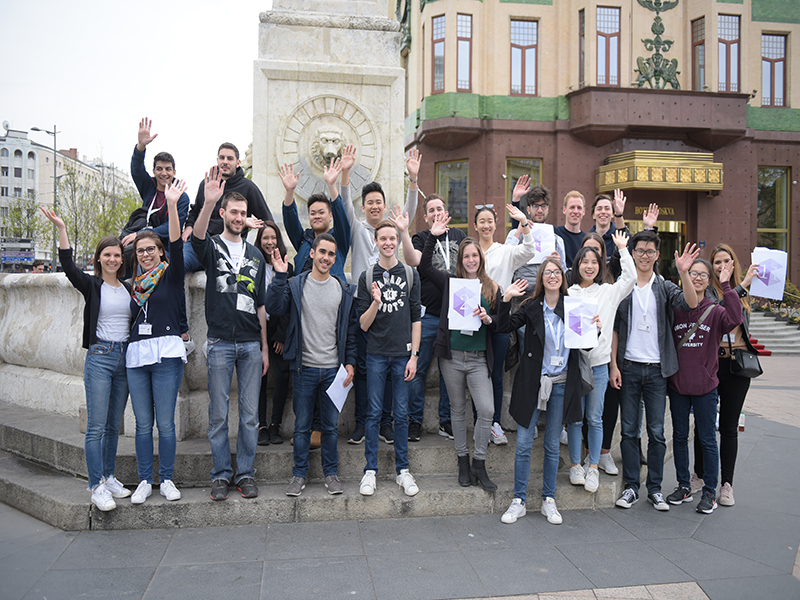 " I think we are all definitely very grateful, honored and excited that we have got the first place. Its been definitely very tough 3 cases but it is a great honor that we have won the first place at such a prestige competition. " – said the members of the winning team (Wilfrid Laurier University, Canada) of BBICC 2018.
Young business minds from all over the world gather in Belgrade
The four member teams are coming from countries all over the world: USA, Australia, Canada, Germany, Switzerland, Japan, Thailand and others. A Serbian team, from the Faculty of Organizational Sciences, will also be participating. Apart from competing and solving case studies, the participants will have an opportunity to get to know Belgrade and Serbian culture through various social and cultural activities.
On Saturday, April 4th, three teams that provide the best solutions to the companies' challenges will become winners of this year's BBICC.
Successes of FOS students at international competitions
The idea for organizing a global case study competition in Belgrade was born after FOS students mentored by Professor Vesna Damnjanovic PhD achieved great results in prestigious competitions all over the world. Some successes of Serbian students are: first place at University of Navarra International Case Competition, in Pamplona, Spain in March of 2015; first place at BI International Case Competition in Oslo, Norway in February of 2016; first place at McGill Management International Case Competition, in Montreal, Canada in March of 2016, third place at FEP U. Porto International Case Competition in Porto, Portugal in October of 2016; finalists at CBS Case Competition in Copenhagen, Denmark in February of 2018; first place at Unilever Future Leaders' League in London, UK in April of 2018; finalists at L'Oréal Brandstorm in Paris, France in March of 2018, regional winners at Unilever Future Leaders' League in Bucharest, Romania in February of 2019 and participation at the finals in London; fourth place at Central European Case Competition in Budapest, Hungary in March of 2019; third place at HSBC/HKU Asia Pacific Business Case Competition in Hong Kong in June of 2019; second place at Solvers' Cup in Budapest, Hungary in August of 2019. In addition, FOS students regularly have great results in national and regional competitions.
For more information visit the BBICC web site, as well as the Facebook Page.
Important notice: due to COVID-19 situation, the BBICC competition is canceled. As soon as we have official new info regarding new date, we will let you know on our portal.