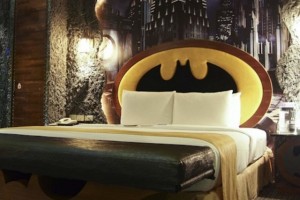 In "Eden" motel in Taiwan, Batman fans will be able to stay in a theme room all decorated in the Batman style.
The head of the bed is decorated with the logo of this hero, and at the ceiling has its mark. Also, the guests will also have a "Batmobile" at their disposal in order to completely relax.
The walls are made of stones in order to create the impression of a cave, and the interior is also decorated with posters and figures which visualize the atmosphere.
The room is being rented for an hour, and in order to spend 3 hours in this room one should set aside 50 dollars.
Those that are not really the Batman lovers, in this motel famous by thematic rooms, may stay in the rooms dedicated to "Alcatraz" or "New York".