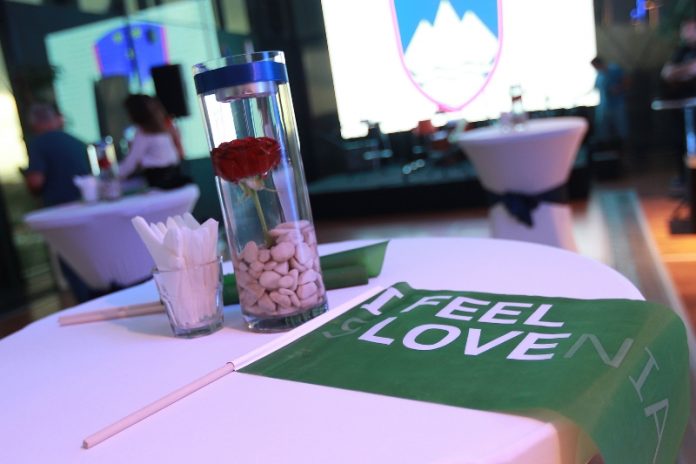 Every year, at the end of June, the Embassy of Slovenia celebrates the National Day of the Republic of Slovenia and the Slovenian Armed Forces Day.
For many years this event has been organized in the same premises, and now there appears a period of search for something new and different.
The year of 2016 is also special because it is a jubilee one, i.e. 25th anniver­sary, and thus the celebration was given even more importance, and there occur­red a need for something really special.
Consequently, the event was held on the 25th floor of the business center Usce, in the restaurant Top of the Hub.
A beautiful view was a key factor why the Embassy of Slovenia chosed this venue, and one should not forget the interior and decoration as well, which, as desired by the organizer, was painted in colors of the flag of Slovenia.
After the foregoing, the other details were successfully negotiated with the restaurant Top of the Hub, including extraordinary food and drink that satisfied all the present guests.
Certainly, the greatest compliments go for the professionalism. The event was attended by more than 500 guests, some of them having been very high of­ficials, while the Slovenian military band was playing on the stage the whole time. After his speech, the Ambassador also distributed the thanksgiving notes for successful cooperation. Video streaming to the other parts of the venue enabled with the cameras and screens positioned around the venue was work­ing unobstructed all the time, which was very important for us. Employees  were able to control both the arrival of guests and the crowd that threatened  to be created of so many people.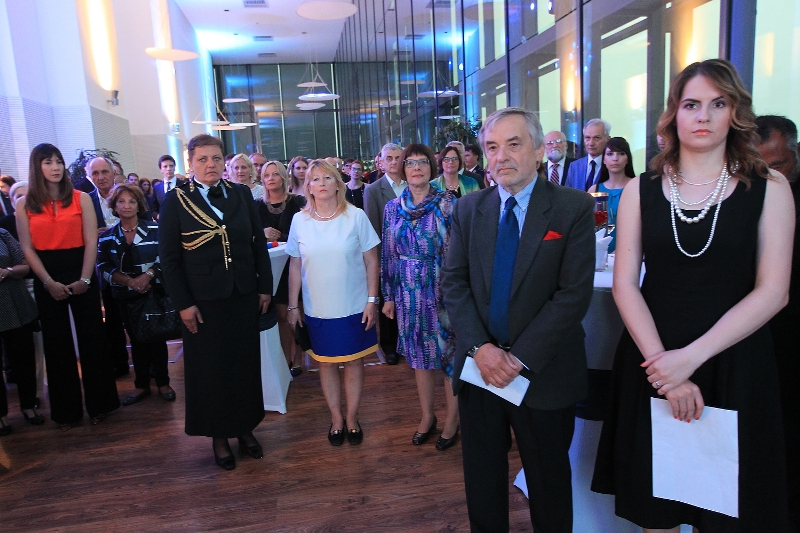 Top of the Hub has shown to be a venue for every recommendation, and its staff generous and well coordinated, which was shown during the unex­pected situations and minor logistical difficulties, which were quickly and effectively removed.
Danijela Fisakov, President of the Slovenian Business Club
"On 27th June, 2016, the Slovenian Embassy in Belgrade celebrated the National Day with a festal ceremony event held at the business center Usce, i.e. the 25th anniversary of independence, as well as the Armed Forces Day. The elegant interior with a beautiful view is something that rarely any venue in Belgrade can boast of. Also, the professionalism and friendly staff gives an additional value to such an interior. Even though both youth and experience have their advantages, one could have noticed a perfect blend of these two elements that made up the incredible synergy.
All of these was completed by the specific tastes and refined appearance of culinary specialties."
Branko Greganovic, The President of EB, NLB Bank
"Well-known event, this year in a new ambient and really well organized. In addition to the unique venue and services, I would praise the exceptional organization, taking into account a large number of guests, and I would particularly like to emphasize the quality of live music.
I come from the corporate world and I know how difficult it is to create such a pleasant atmosphere. Congratulations!"
Stanka Pejanovic, Director, Gorenje Belgrade
"This year's celebration of the National Day of the Republic of Slovenia at the top of the building Usce was a step forward compared to all previous celebrations. In the pleasant atmosphere, we had the opportunity to hear from H.E. the Ambassador Vladimir Gasparic how many joint projects between our two countries were successfully completed in the field of economic cooperation, and also how many new ones were initiated. The company Gorenje and I personally are very pleased because we had the  opportunity to host the reception on the occasion of presentation of the newly appointed Ambassador, H.E. Vladimir Gasparic where he met with businessmen in Serbia and the members of SBC."