Waters of Trevi Fountain turn red after man throws paint into the basin.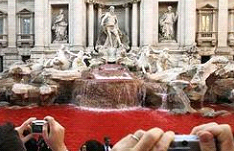 ROME – They knock the noses off statues in a park that was a favourite haunt of poet John Keats and throw dye into the iconic Trevi Fountain.
Vandals are increasingly on the prowl in the Eternal City — and now Italian authorities are fighting back, sending more police, installing cameras and even considering using convicts to protect monuments and artworks.
For the troublemakers nothing is sacred: earlier this month vandals left anti-pope graffiti on the Scala Santa, or Holy Stairs, a major Catholic site that draws pilgrims from around the world who climb its 28 marble steps on their knees.
Compounded by pollution, negligence and a chronic shortage of funding, vandalism adds to the city's difficulties in preserving its unique artistic heritage, forcing officials to use valuable funds in emergency restoration.