Many circumstances contribute to the fact that Kopaonik has been at the very top position in selection of destinations for organization of corporate events.
One of them is certainly the hotel's offer on a high level, and MK Mountain Resort for many represents a symbol of Kopaonik. What particularly distinguishes Grand Hotel & Spa is the compactness and accessibility of all necessary facilities at one place, without any need to leave the resort and the tourist centre Kopaonik.
All facilities at ONE PLACE – both in winter and in summer
Grand Hotel & Spa has recently been expanded with a brand new and totally functional convention centre which disposes of three renovated and modern equipped conference halls, slightly isolated from the hotel bars, restaurants and other facilities, and which provides necessary peace and ideal working conditions. Apart from those three halls, there is also a multifunctional hall of 1,258 m2, which can be adapted to various requests and needs.
Conference hall KOPAONIK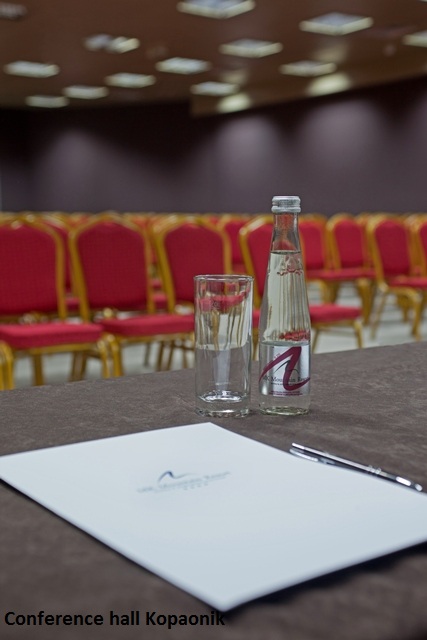 Conference hall Kopaonik is the largest conference hall, of the capacity of up to 300 attendees, arranged in theatre style.
In front of the hall, there is an info-desk suitable for registration of participants, and in the near vicinity, there is an a la carte restaurant Garden, which offers the possibility of organizing coffee break or cocktails for the attendees.
Conference hall KARAMAN
The conference hall Karaman, of the capacity of up to 60 attendees in theatre style, is an ideal place for business workshops, press conferences, board meetings and small gatherings. The hall is next to the hall Kopaonik which makes it an excellent choice for organization of parallel sessions and workshops.
Conference hall RAS
The conference hall Ras is dislocated from halls Kopaonik and Karaman, which offers the possibility of organizing several independent events at the same time. Pleasant ambience, daily light and isolation from other facilities provide peace, silence, comfort and cosiness. This conference hall offers a lobby suitable to welcome the guests or to organize cocktails.
Multifunctional GRAND HALL
Grand hall was renovated in 2013, and offers the possibility of adapting the space for different purposes – sport facilities, conference, exhibition and spaces for formal events. Grand hall is connected with conference halls Kopaonik and Karaman with a corridor, thus making it an ideal whole for gatherings which combine lectures and exhibiting showroom.
Sport and recreation facilities which will enrich each event:
• Grand Oaza Spa & Wellness Centre
• Team building programs – organization of thematic programs according to special requirements of clients
• Sport activities – basketball, volleyball, futsal, bowling, squash and table tennis…
• Open air recreation – Cable car panoramic ride, Zip line, Tubing, Mountain biking, Walking tours, Riding, Shooting, Orienteering…
• Adrenalin tours – rafting, paragliding, off-road jeep and quad driving, canyoning, alpinism
• Excursion to winery and wine tasting
• Excursion to Studenica monastery
• Picnic in the countryside