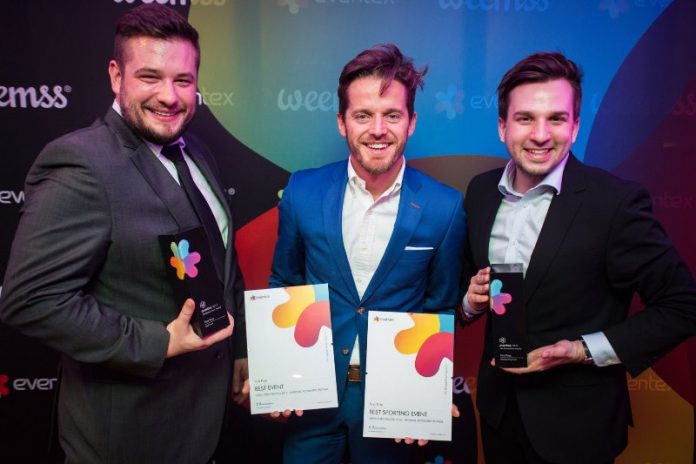 The most outstanding achievements in the world of events were announced last night during the Eventex Awards gala at Croke Park in Dublin, Ireland.
The awe-inspiring Hogan Suite gathered industry professionals from all parts of the world. The record number of 60 awards was distributed between 37 companies in 19 categories for best events and event technology!
Best Event was awarded to VERVA Street Racing 2016 – National Automotive Festival by Walk Events – a strategic communications company from Poland that also won Best Sporting event.
"It's a huge appreciation for our entire team and client. We had a very successful year and these awards are encouraging us to work even harder in 2017! Eventex is a great opportunity to meet people from around the world to share experience, which I find inspiring"- said Adam Kowalczyk, event director at Walk events.
The greatest number of awards went to American companies, followed by UK, Ireland and the Netherlands. Attendify became the leader among the American event technology professionals, taking home a total of 4 awards, including the grand prize for Best Event Mobile App!
In UK, Eventex awarded first prizes to Momentum Worldwide, Weli Creative and Connections Events, respectively for Best Trade Show, Best Festival and Best Conference. In Netherlands XSAGA stole the show with People's Choice Event and Best Brand Engagement Event in addition to becoming a runner-up for Best Festival! Slido – the audience interaction tool was pronounced Best Event Technology.
The best event professionals were celebrated with the glamorous performances by MABEA and 360 ENTERTAINMENT in addition to a delicious dinner, specially prepared by master chefs at Croke Park Events which undoubtedly added to the glorious ambience of the evening!
For the full list of winners, please refer to: https://eventex.co/eventex-awards-winners-squad-2/