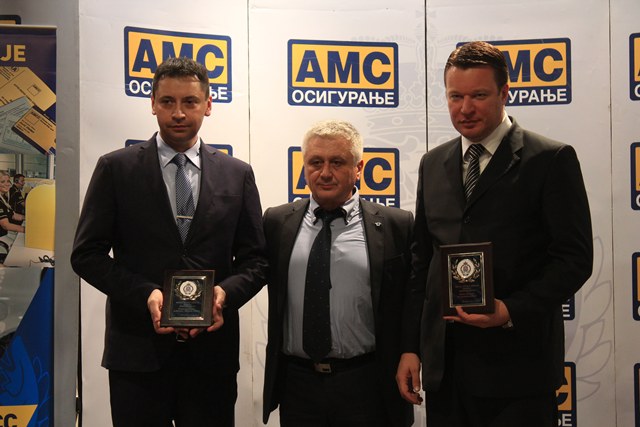 In the presence of more than 200 guests, 6th December 2014 in Zira Hotel Belgrade awards were presented to the best ones in all moto disciplines, as well as those who have contributed to the development and promotion of this sport in the country and abroad.
At the announcement of the Eastern European Championships in 2014, in addition to the champions were presents and all members of the board of International Continental Union of motorcycling federation (FIM Europe) led by President Wolfgang Srb, as well as members of the Assembly of British Moto Union (BMU).
At the aforementioned evening, two special awards were given to the Automobile and Motorcycle Association of Serbia (AMSS) and AMS insurance. For outstanding contribution to the development of motor sports in Serbia awards received Mirko Butulija, president of AMSS, Predrag Đurđev, general secretary of the AMSS and Vučeta Mandić, general manager of AMS insurance.
According to Mirko Butulija, AMSS, as a carrier of the development of motosport in Serbia, to strive that these sports disciplines improves and popularizes in future, in which it has full support of the most influential international Institutions, FIM Europe motosport and the FIA for auto sport as well as the Ministry of Youth and Sports of the Republic of Serbia. This sport year will be remembered for the title of champions of Eastern Europe in MK discipline, and vice-champion titles in RR and MX disciplines that achieved national motto team of Serbia. For winning three consecutive titles have been awarded three gold helmets. National champions who have received this prestigious award are Dragan Dragoj and Vuk Tomanović in the category of motorcycles with sidecar, MK discipline, Miodrag Stanojević, MX discipline, and Gabor Sagmajster in the MX 1 and MX 3 discipline.