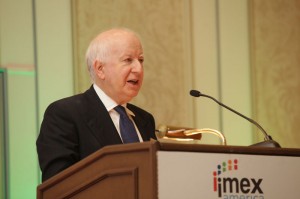 The third edition of IMEX America ended with IMEX Group Chairman, Ray Bloom, announcing significant increases in all areas of the show.
Speaking at the show's closing press conference, Bloom explained that hosted buyer numbers had increased significantly, rising from 2400 last year to just under 2700. In addition, attendee numbers were expected to be comfortably in line with last year, totaling around 1700.
He confirmed that appointment numbers between buyers and exhibitors had also grown by 27% compared to 2012, with 50,000 individual appointments in addition to 9500 buyers taking part in group appointments over the three day trade show at the Las Vegas Sands Expo®.
"We have also seen growth in this year's exhibitor numbers. In 2012 we welcomed 2413 exhibiting companies to IMEX America and this year we had 2694 exhibitors on the show floor," he declared.
Take a look  at Imex America show statistics on> http://www.imexamerica.com/about-us/show-statistics
Bloom went on to praise the extremely high quality of many of the exhibitor booths this year.
"No-on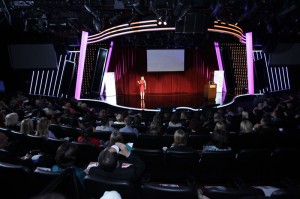 e can doubt the seriousness with which our exhibitors now take the business opportunities available to them here. The quality, creativity and visual impact of many of the booths has been remarkable. Their investment is clear to see, and this is clearly down to their belief in the return they can achieve from being at the show," he said.
Bloom reported one example of business done on the show floor: a single booking for 10,000 room nights in Austin, Texas.
Bloom recapped on some of the highlights from the past few days, which included the first ever IMEX and US Travel Association Policymakers Forum on Wednesday.
He said: "At a challenging time for the US government we were delighted that the Mayor of Washington DC, Mayor Vincent Gray, could join us by live satellite link from the US capital. He spoke to around 60 industry and political leaders including Mayor David Coss of Santa Fe and Former Mayor of Las Vegas, Oscar Goodman. The Lieutenant Governor of Nevada, Brian K. Krolicki also attended the Forum lunch."
Bloom also talked about the show's third Executive Meetings Forum which was attended by 30 top corporate meeting planners largely from North America.
"That single group of buyers is responsible for $2.5 billion of annual meetings spend and it included senior executives from McDonalds, KPMG, Wells Fargo, Monster and Cisco to name just a few," said Bloom.
In his remarks, Paul Van Deventer, President & CEO of Meeting Professionals International (MPI), the show's Strategic Partner and Education Provider explained that over 1200 participants had taken part in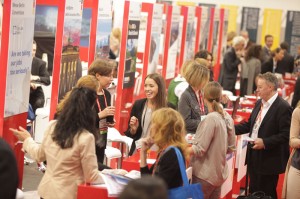 Smart Monday's education program and feedback had been especially positive. He also expressed his delight that 1700 guests had enjoyed the previous night's MPI Foundation Rendezvous at PURE, which was an important fundraiser for the Foundation.
Bloom also reminded the audience that IMEX America 2013 had marked the 100th Future Leaders Forum, which is a joint initiative between IMEX, MPI and MCI to foster, encourage and inspire the next generation of meetings industry leaders around the world.
Also speaking in their capacity as key IMEX America partners were John Caparella, President and COO of The Venetian® | The Palazzo® and Michael Goldsmith, VP of International Marketing for the Las Vegas Convention & Visitors Authority. Both shared their respective team's successes from the previous few days.
Bloom closed the press conference by looking ahead to 2014: "This has clearly been another year of significant growth. The new facilities and the new halls we now occupy here at the Sands Expo® have proved a huge asset in supporting the show's expansion, and allowing us to deliver strong business, networking and educational events here this week. We look forward to returning here for many years to come. There can be no better home for IMEX America," he declared.